Now, we all know that Team Fortress 2 is a Free to Play game, but seeing that you clicked on this post, I feel that I need to explain myself a little further.
So, here I am just browsing the Steam store when I come across something hilarious and probably bugged. So instead of dragging this post out, tl;dr, I'm just going to provide my evidence:
Attachment: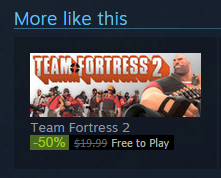 tf2 on sale guys.png [ 40.58 KiB | Viewed 5024 times ]
I think Steam might be a little confused guys and gals, have fun!